Welcome to the 2021 MLive's Reader's Choice Awards!
Michigan is a colorful place to live, work, shop and play. Give your favorite stores, restaurants, home improvement contractors, accountants, car mechanics, salons, or other businesses the recognition they deserve! The MLive Reader's Choice awards celebrate and recognize the best our community has to offer.

NOMINATE YOUR
FAVORITE BUSINESSES
Closed September 3

Vote for your favorite businesses from those most nominated

Winners Announced
this Fall
The Ballots for Reader's Choice are presented regionally. Choose your local region, and vote for your favorites! Engage with the ballot every day if you like, driving attention to those businesses you love. We'll honor the best of the best with in-business signage, a digital media kit, and bragging rights for the year. On November 14, we'll publish the full list of winners by region!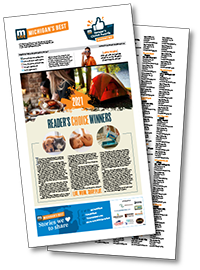 MLive Reader's Choice Timeline
Nomination phase (Semi-Finals):​ August 23 – September 3​, 2021
Voting phase (Finals):​ September 27 – October 6, 2021
Winners will be recognized in a special print and online section on November 14, 2021 
Do you own or manage a business represented in this ballot?
Contact us to to receive a FREE MEDIA TOOL KIT to promote your business for MLive's Reader's Choice Awards.