Nearly a decade ago when our Michigan's Best contests began, we took the lead from our readers. We asked them to nominate their favorite places to dig into a pizza, grab a hand-pattied burger, or sample the best craft beer and boutique-style wines. Over time, we moved to include categories well beyond the flavors of Michigan, and our reader's responded.
Michigan's Best – Reader's Choice gives our audiences the opportunity to celebrate and recognize the best our community has to offer. Now recurring regularly, Reader's Choice offers the chance to vote (or nominate businesses you don't see listed yet). This spring, we'll feature our audience's favorite boutique shops, shopping destinations, and other retail establishments.
We've put our readers front and center, letting them be the guides for the retail ballot which runs May 16 – May 27.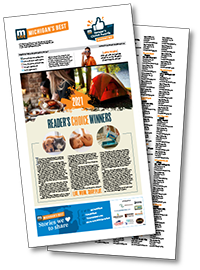 2021 Success
Our first-ever Reader's Choice contest, run by our sales and marketing team at MLive Media Group, brought in nearly 10,000 nominations when it launched in 2021. More than 29,600 votes were cast for winners and finalists across three regions in our state. You can read more about our 2021 experience on MLive.com.
What to expect in 2022
Any Retail Business can be nominated by our readers, as long as it fits the category for which it is nominated.
MLive will promote the ballots and voting throughout the nomination period using print, digital and social media. Those receiving the greatest number of votes will be featured in a special Sunday section in July, 2022.
How it works:
1. Ballot Opens May 16, 2022
Our audience will vote for their favorite businesses in nine retail categories:
Apparel and Accessories

Athletic and Outdoor

Books, Media and Entertainment

Cannabis

Grocery, Wine and Spirits

Health, Personal Care and Beauty

Home and Office, Electronics

Jewelry

Specialty Stores
2. Ballot closes Friday, May 27, 2022 at noon, and those with the most nominations/votes are named the top finishers.
3. WINNERS and RUNNERS UP will be notified in June.
4. WINNERS and RUNNERS UP in EACH CATEGORY will be listed in a special section on July 10th.
Nominate & Vote in the Ballot!
Ballot runs May 16 – 27 and you may vote up to once per day.
Are you a business that wants to promote votes?
We have a digital media kit you may use, including logos and social cards for the program. It's FREE TO USE and can be downloaded here:
Connect with us for more information
Are you interested in being a bigger part of the ballot, perhaps event showcasing your brand in its voting category? Opportunities start at $2,000.