Retention Goals
Target Employees with >2 Years Tenure
Most healthcare environments fight to keep qualified employees. With skilled workers demanding premium wages, onboarding this staff is costly, not to mention the thousands spent on recruitment of these nurses and others.
Among our client's goals is to reduce employee churn. This would result in stabilizing the labor base over time, creating cohesion across the patient experience journey.  Until beginning this strategy, internal communications and events were among the only touchpoints the organization had with its key staff.

SOCIAL MEDIA

EMAIL

EVENTS

NEWSLETTERS
Using a cross-collaborative effort where engagement messaging was served across several channels, we began to see the growth in interactions from the employee base. In fact, measurement of this growth exceeded 60% in the first three months of the program.
As the communications and engagements increased, the number of churned employees decreased.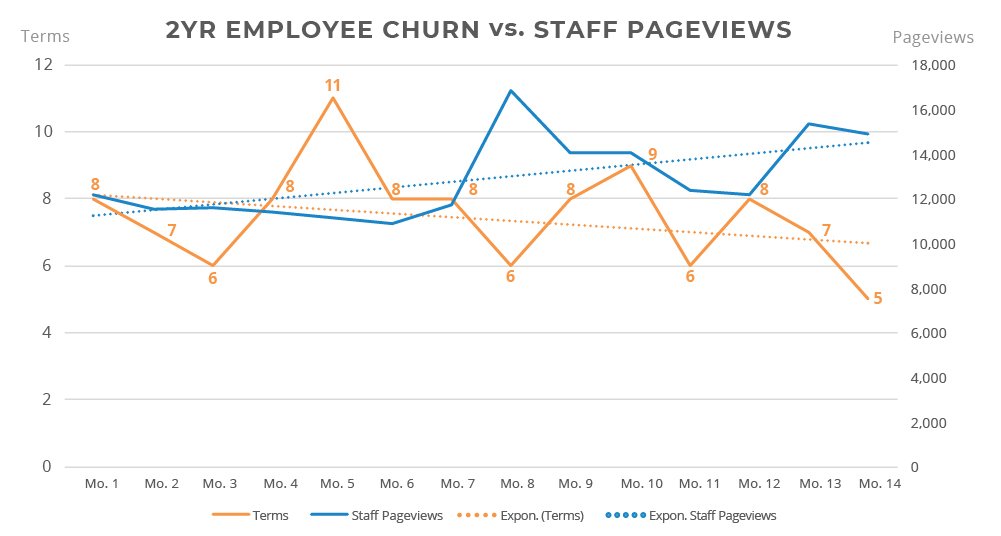 Shown here, the dotted lined indicate median trend lines as well as the correlation between communications to staff (pageviews of staff related content) and the reduction in turnover. While not a single factor, these engagements were clearly influential.