As a marketer or a business owner, you have no doubt at some point encountered disruption to your company's sales cycle (if not before this year, you had one in 2020.) Whether it be from new competition, changing media landscape, or a global pandemic, there are events that might make you take pause and consider pausing marketing until the storm passes. That is an ill-advised idea.
KELLOGG'S THRIVES THROUGH THE GREAT DEPRESSION
In the 1920's, packaged cereal was an emerging product of convenience for families in the US. When the Great Depression wrecked markets globally starting in 1929, many did the predictable thing by vastly reducing ad budgets or eliminating marketing altogether. The Kellogg Company, known fondly as simply Kellogg's, steered into the oncoming storm by doubling their media budget and increasing their revenue by 30% in the worst economic downturn in history. Kellogg's emerged as the global leader in cereal by recognizing the void their competition left by going dark, and selling a much needed, quality product regardless of economic conditions. In fact, this effort cemented cereal as the American breakfast staple for generations to follow, changing breakfast culture to a more affordable, grain-based dish. It's been a hundred years, and the Michigan-based cereal company is still the mainstay.
DON'T BE FROZEN BY FEAR
A modern example of data that reflects this lesson, look no further than HubSpot. Tracking marketing and selling benchmarks during the health crisis, they report of things staying close to baseline, until the world took a monumental shift towards staring at screens all day. Some sources report a 70% increase in screen time during Covid-19.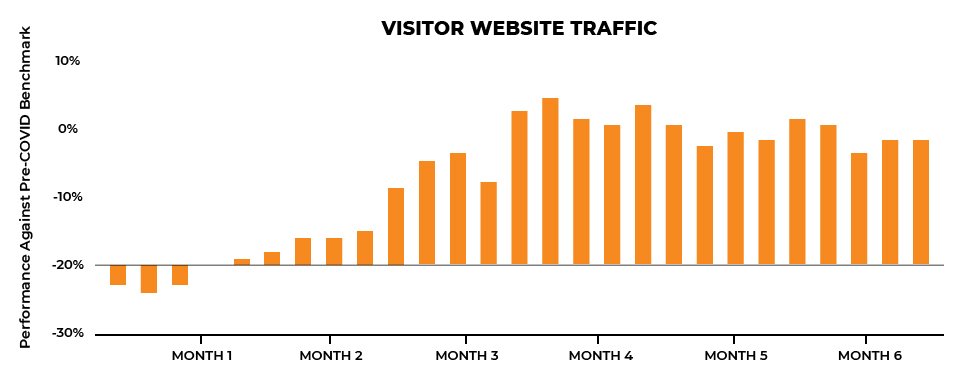 As companies and customers were forced to move to strict digital-only relationships, web traffic skyrocketed. Nearly every client HubSpot serves experienced record site visitors and online engagement. However, looking at sales activity over the same period, most of these companies missed the opportunity to engage with their audience, exponentially larger than it was in the first quarter of 2020.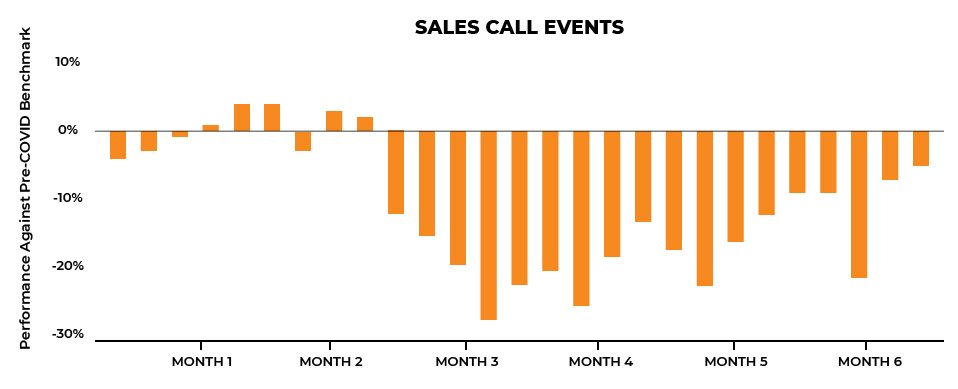 Sales call events plummeted in a nearly mirror image of the same time period, when site traffic had never been higher. This example illustrates uncertainty, but also lost opportunity, as going dark wasn't, in retrospect, the best play. Email open rates were 20% higher during the peak of working from home, reflecting a thirst to advance with business, even when things seemed so uncertain.
AVOID GOING DARK
This global manufacturer, leveraging our team's digital marketing capabilities over the last six years, stayed the course with great results.
In April of 2019, the company experienced a very good month of lead generation from their digital campaigns. The primary goal on this report is to always maintain a conversion rate of at least 2%. Last April, the campaign delivered a 2.41% conversion rate, and all other metrics being at or above average.

Compare that data set to April of 2020. The client's main competitors pulled their digital marketing campaigns for fear that budgets would be wasted and interest in their product would be low. This created opportunity for the manufacturer to own the digital landscape, generating more conversions, a higher conversion rate, and lower cost per click and cost per conversion. This led to one of their most successful months in the extensive campaign history.

In an industry where new customers could be worth six figures in revenue, this company held steadfast in their marketing plan and the goals established for 2020 and are in a much better position to achieve revenue projections than their competitors.
From breakfast cereal to metal widgets – if your product fulfills a demand, staying the course through disruption will benefit in the long run.
Contributed by Ryan Winfield, Digital Strategy Manager
INDUSTRY INSIGHTS
Blog Posts
WE'RE HERE TO HELP
Grow Your Business
This is the new MLIVE MEDIA GROUP. Our business is making your business smarter. Contact us with any opportunities for us to help YOU.