Do you want more time spent on your ad?
Put your ad where readers view your message as content.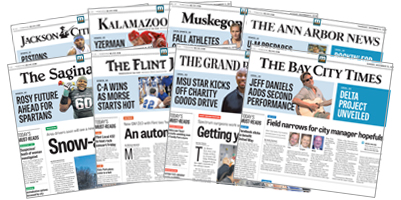 MLive Media Group's eight newspapers have been the trusted source for local, state and national news and advertising for an average of 150 years, with more than 135 journalists telling Michigan's story. We deliver an engaged audience of readers who seek richer content and consider advertising to be a major benefit of readership.1
Reach our 1.2 millions weekly readers with a variety of print display advertising solutions.
In the Grand Rapids DMA, our newspapers reach a weekly adult audience 63% larger than that of the leading local TV station, and in the Flint/Saginaw DMA, our audience is 51% larger.2 According to Pew Research, newspapers are the top source for community news, and 48% of newspaper readers say seeing a product in the newspaper after seeing it online makes them trust the product and be more likely to purchase it.3
Our print display advertising solutions include a dozen modular ad sizes, pop out pages, front page notes, skybox ads, front page strip ads, preprints and spadeas.
Visit our Ad Specs page to view print ad sample and specs.
---
Sources: