A political candidate running for office is just a sliver of the political advertising activity in the marketplace during election periods. Issues advertising, PAC advertising, and "friends of" ads also abound. That means that a broadcast outlet is responsible for selling at a fixed rate to just a segment of election-based advertising, not the topic as a whole. Statista reports that political action committees and ballot issues represented, respectively, $121M and $142M in 2018 on radio alone. Because these influencer groups will also be placing ads, available inventory will be slim, and what isn't sold could be priced according to demand, particularly in broadcast media.
The next election cycle is expected see more than $6 billion in the total cost of TV and digital ads, according to a report released by political ad-tracking firm Advertising Analytics; a 57% increase from midterm elections. The Hill reported, "Of the $6 billion total, $1.6 billion is projected be spent on digital video platforms, like Facebook and Google, while $4.4 billion is projected to be spent on traditional platforms like broadcast and cable TV stations — more than double what Democrats and Republicans spent on TV ads in the last presidential elections."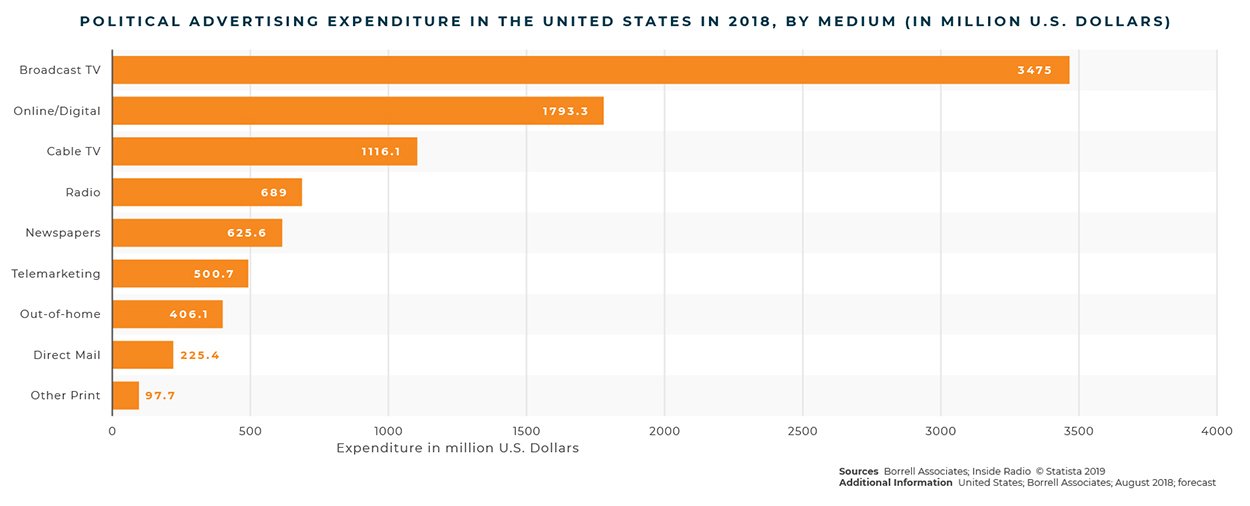 If your marketing strategy is established already and you plan to compete with available ad space during this time (or you haven't dramatically increased your budget to accommodate the change in marketplace demand), you aren't prepared…
The Case for Digital
Inventory demands in digital don't exist the same way they do for broadcast and outdoor advertising. Consumers (particularly of voting age) spend hours on devices each day, and the impression availability follows the number of users and their natural internet travels. We Are Social reports that global internet usage is accelerating at an unprecedented rate, with 4.39 billion internet users in 2019, an increase of 366 million (or 9 percent) since January 2018. While the US statistics are marginal, they reflect the increasing inventory that follows that metric. To oversimplify, the increased number of sessions and relative page views generate additional inventory impressions with every click. The inventory concerns that exist in digital media simply do not exist to the degree that they do in traditional media, where placements can be maxed at the ceiling of availability.
For years TV has been the go-to platform for entertainment, political and educational content; capturing the attention of the majority of any geographic audience. For this reason, for a very long time, TV has been seen as one of the most effective and trusted ad mediums. Today's reality shows viewership moving in high rates away from traditional television and onto the internet. Teens and Millennials are spending 43% to +45% less time each week watching live TV than 5 years ago. In 2017 alone 22.2 million viewers ages 18 and older cut the cord (a figure up 33.2% over prior year).
This means television ads are losing local audiences while the cost of TV spots remains the same. Advertisers are reaching less and paying more for ads. TV is expensive, and online video has better defined audience targeting capabilities at a much smaller price tag.
Audience Targeting possibilities are far better in digital that any traditional format. Best for "awareness" activities in a branding campaign, the use of television and radio reaches a broad audience but generating "post ad" activity is impossible. Tracking the numbers of those that heard your advertisement is impossible, and understanding the activity generated by that ad even more so. In digital, attribution is much clearer, and reaching an audience with very specific attributes isn't just possible, it's the norm.
In Short...
Election season is a time where garnering attention will be increasingly difficult. Riddled with frustrations for advertisers, it's time now to adjust your strategy, preparing for 2020 and the reality of advertising in a time when attention is short and political messaging abounds.
INDUSTRY INSIGHTS
Blog Posts
WE'RE HERE TO HELP
Grow Your Business
This is the new MLIVE MEDIA GROUP. Our business is making your business smarter. Contact us with any opportunities for us to help YOU.