When you search for a product or service, how many of the top search results are businesses within directory sites?
Do you see your business?
Harness MLive.com's strong SEO ranking by listing with us. MLive.com combines the power of our own business directory site with more than 300 other directories online, pushing your accurate contact information to the top of search results. This is the most affordable and effective advertising you can do!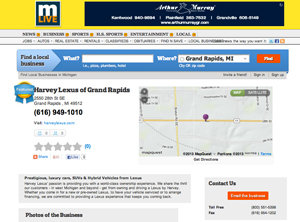 With more than 80,000 weekly searches, an MLive.com business listing can help your business be found online. This small investment with big benefits can help your SEO ranking and comes with the option of distributing your business' key information to hundreds of other directories including search engines, Internet YellowPages, social networks, 411 directory assistance and GPS navigation devices.