Display advertising is a powerful way to increase your brand awareness and deliver an immediate call-to-action.
Position yourself next to engaging news content that attracts an influential, high-earning audience with buying power.Reach your best customer with standard online display, rich media and video.
Standard Impressions
70% of online display campaigns give in-store sales a double-digit lift.1
See our Ad Specs page for sizes and examples of standard online display ads.
Rich Media
Want to stand out in the crowd?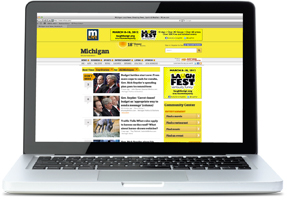 Make an impact and dramatically improve click-through rates with rich media including corner peels, sliding billboards, wallpaper, slider ads and video.
See our Ad Specs page for sizes and examples of rich media display ads.
Video
According to MediaMind's March 2012 report, "The Rich and the Powerful," online users are nine times more likely to click directly on rich media ads with video than they are to click on standard display ads. Our video advertising solutions include video display rectangle ads, 15-second pre-roll video ads, companion rectangle display ads, sponsor ads and 30-second post-roll video ads.
See our Ad Specs page to view video ad sample and specs.
---
Sources:
comScore dunnhumbyUSA research, 2011 ↩