Reach local auto buyers.
Reach more new and used active, intender and passive auto buyers with our redesigned, intuitive auto search tool. Our more than 51,000 monthly unique visitors1 can match your inventory to their exact search criteria (including by fuel economy and keywords), build and price a new car, find local deals, read reviews and more. Online shoppers also have access to dealers' newspaper ads and, in eight markets, the entire used car inventory is published in the newspaper multiple times each week.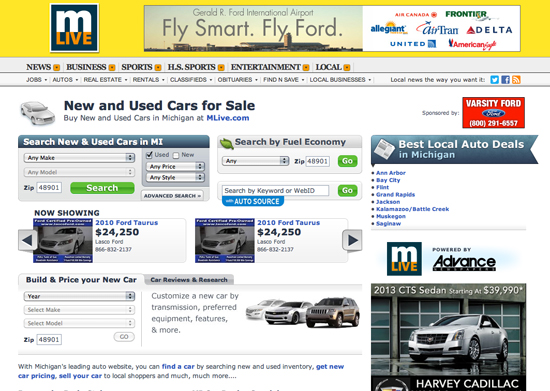 Highlight your inventory with sponsored, basic and enhanced listings, photos and detailed information, and videos that include video search engine optimization. Also leverage our fast growing mobile audience with custom-built mobile apps and mobile vanity keywords that give users access to your complete inventory.
---
Sources: