CONTENT MARKETING
It's all about creating engaging content to entice your audience.
All content we craft is done with organic search in mind.  Strategic keyword research is done with all Mlive branded and sponsored content.
MLive.com is Michigan¹'s #1 news and information website; sponsored articles on mlive.com offer third party authentication that can't be beat.
We put the reader first.  Valuable content that triggers the viewer to engage, share or underscore is our primary goal.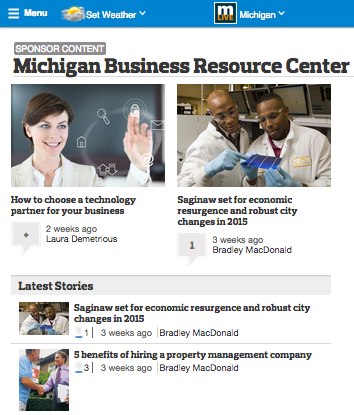 We understand the concept of creating engaging content; it's what we have done on a daily basis for the past 100+ years. Starting with our oldest paper, The Kalamazoo Gazette, founded in 1834.
For each article we conduct research with the client¹s experts and then do our own independent research; the result is high-quality, relevant, and engaging content.