"Newspaper of the Year" founded in 1837.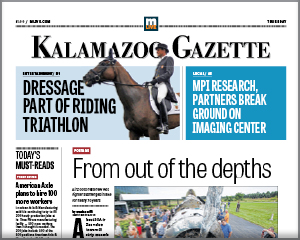 Named "Newspaper of the Year" by the Michigan Press Association in 2009 and the oldest business in Kalamazoo, the Kalamazoo Gazette was founded in 1837. The Gazette is printed and available as a digital eReplica and at stores and newsstands seven days a week. It is home-delivered on Tuesdays, Thursdays and Sundays and has a daily circulation of 32,849 and a Sunday circulation of 45,2571, which reaches 61.2% of the market.2
For more information on Kalamazoo advertising and marketing solutions, please click here.
To subscribe, click here.
---
Sources: