Great journalism for 120 years.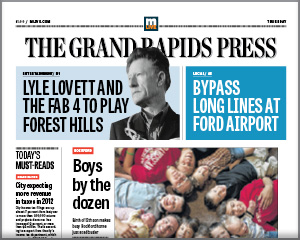 The largest of the MLive Media Group newspapers, The Grand Rapids Press has been a leading source for news and advertising for Kent, Ottawa and Allegan Counties for 120 years. The Press is home-delivered on Tuesdays, Thursdays and Sundays. It is also printed and available as a digital eReplica and at stores and newsstands, seven days a week. It has a daily circulation of 86,669 and a Sunday circulation of 129,2521, which reaches 55.4% of the market.2
For more information on Grand Rapids advertising and marketing solutions, please click here.
To subscribe, click here.
---
Sources: