You walk into a dimly lit space. No matter the direction you gaze, you witness the sight of towering, shielding panels. It's a disconcerting feeling as you soon realize the only sounds you're hearing are sporadic clicks of keyboards and the occasional buzz of a microwave. You feel even more disconsolate when you realize a lack of color in this environment you ambulated into.
No, you haven't entered some modern-day dungeon, but rather a sad reality of an average office environment. While you can share relatable laughs at the mundane nuances of shows like "The Office" and movies like "Office Space", you ought to seek more out of your work environment.
Companies are starting to kick down doors harder and faster than Jack Bauer could ever dream of to instill a company culture employees can happily embrace. Technology is evolving and companies are crafting a culture that transforms with it. Technology allows for flexibility and collaboration, so company environments are starting to be built on the premise of shared, open space.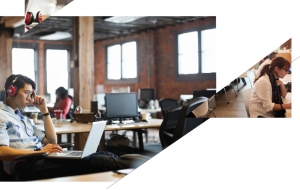 An example of this tech-savvy, open company culture shift is Steelcase. The company's former CEO, Jim Hackett, told Forbes that Steelcase celebrates the shifting of the "I" space to the "we" space. He acknowledged people need a range of settings depending on the type of work they are currently focused on.
Assimilation to an open culture focused on the 'we' more than the 'I' is easier thanks to modern technology. Companies can equip employees with laptops, tablets, and smartphones rather than a desktop. Mobile technology allows the tear down of cubicle dungeon walls and the goodbye to isolation. Employees can work anytime, anywhere.
An open, tech-savvy environment comports itself as one to further encourage a beehive-like, on-the-go atmosphere. This enables an "entrepreneurial spirit". It's one that Zappos embraces, as the company has an open office to better encourage employees to "collide."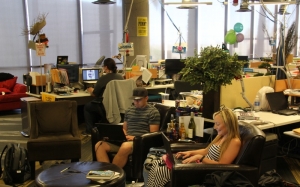 On its company's blog, Rob Timoshuk, director of operations, said an open space further allows employees to customize a space that best suits their needs. Zappos takes an organic approach, meaning they provide a shell, and the rest of it is up to the employees to build upon.
Empowering employees with a variety of workspace options is to encourage collaboration and productivity. For example, in some offices, you'll find typical desks sans the towering fabric panels, restaurant-style booths, couches, and private rooms.
These seating options better feed the ability to collaborate and showcase creativity. And these days, not only seating arrangements help facilitate an affable, company spirit, but walls can too. In some company offices, you'll find whiteboard walls used for brainstorming sessions. You never know when a spontaneous brainstorming session will pop up in an office. A quick chat could evolve into an in-depth conversation – and employees will have the walls to write on.
Working at MLive Media Group means you have the technological tools, environment, openness, and furniture capable of suiting your creative mind and spirit. MLive is a habitat of versatility that supports an eagerness to create. It's a place where remuneration goes beyond a paycheck and into the discovery of your own creativity. It's a tech-savvy environment equipped with the tools to help you work rather than make you work extra.