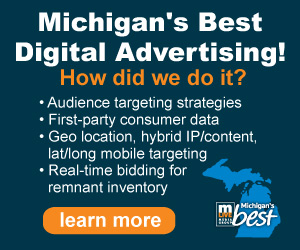 In a world where all media is optional, the mass market is no longer the most important market, and the only thing that matters is what matters to an individual. We have to work harder than ever to create meaningful connections with the right audience. In an effort to take risks and create something extraordinary, we're taking a shot at some of those meaningful connections.
Whether you clicked (or even just saw) an advertisement related to Michigan's Best or a paid search ad which landed you here, welcome. You were looking for something and before you found us, we found you. This is how we did it.
There are a couple of ways to find people online: by the things that they do or the by the places they are at.
We knew that 2000+ business leaders, government officials, community members and general advocates of Michigan were going to be in the same place at the same time. What an opportunity! You see, we have that in common. We also care about Michigan and advocate for her communities and businesses every day. What better way to connect with all of you than to use our tools and our teams in a little bit of a disruptive way to share that common thread?
We used a part of our ad technology to draw a four mile radius around Mackinac Island. We also targeted a few key Northern Michigan geographies and put all of that internet traffic in a bucket. We then told our ad server to try harder than usual to deliver ads to people in those areas, during the conference. Normal advertisements melted off the pages of websites (not MLive pages mind you, ANY webpage) that people in these key areas were visiting, and our messaging replaced them.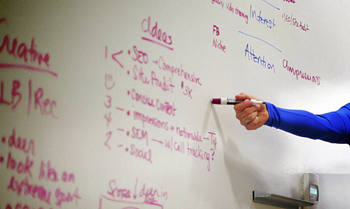 At the same time, people are viewing stories on MLive.com and all over the web about Politics, local government and similar content and we were able to show them a message related to the content we already know they are interested in. Those folks ended up on http://www.mlive.com/mackinac-policy-conference/ to read this year's editorial coverage.
Via one of our ad networks, we were also able to put similar messaging right in the inbox of several thousand people, just by having their email address. A McKinsey Global study published last year and run in the Huffington Post suggests that we spend 28% of our work week in our email. That's a lot of time. Those branding messages can be further targeted like both examples above.
There were also some paid search ads, aiming to deliver specialized conference information to travelers and attendees in a mobile friendly, optimized experience for quick reference and further data aggregation.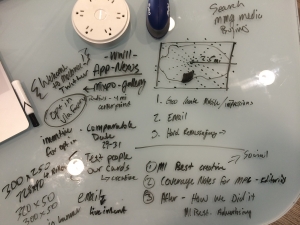 Our team of creative consultants, marketing analysts, adOps specialists and business development pros got together around a whiteboard and built this campaign from the ground up, similar to all others that we create. Our Ops team and campaign managers then took that vision and worked within our technology platforms to deliver it. I'll be excited to share the results of the campaign once we have some information and numbers to look at – we'll update you here.
Thanks for participating and making a connection, if this information is intriguing or you'd like to find a way for your marketing messages to create a little ruckus, lets talk!